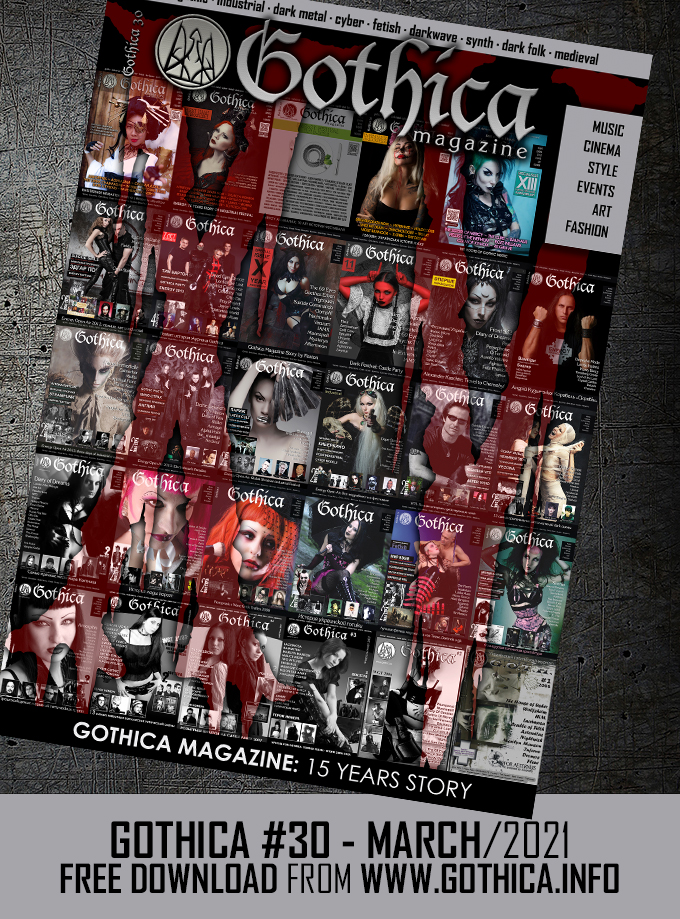 We are happy to present you the 30th issue of the Gothica magazine. It's a special 15th anniversary edition. The issue contains a large interview with the editor-in-chief and an article on the history of the magazine. Many friends of the journal across the world, representing the dark scene, sent their congratulations which are placed in this issue: Solar Fake, Spiritual Front, Tarja, Clan of Xymox, Rave The Reqviem, Vacuum, Combichrist, Attrition, Das Ich, Diary of Dreams, Jayce Lewis, The 69 Eyes, Suicide Commando, The Danse Society, The House of Usher, Paradise Lost, Siva Six, C-Lekktor, Of the Wand & the Moon, Extize, Essence of Mind, Sirenia, Aftereffect, Chamaeleon, Minerve, Dolls of Pain, Moon Far Away, Dark Crystals, Larva, Draconian, Para Bellvm, The Nightchild, Hyperhate, BetaMorphose, nurzery[rhymes], I Miss My Death, Sidus Atrum, Otto Dix і багато інших.
Language: English
Pages: 90
Design: Featon
Cover: All Gothica covers
Free download:
👉 https://gothica.info/en/gothica30
We will be grateful for the maximum dissemination of information on your resources!
https://www.facebook.com/gothicamagazine
https://vk.com/gothicamagazine
https://www.instagram.com/gothicamagazine/
https://t.me/gothicamagazine/
https://twitter.com/gothicamagazine
https://www.behance.net/gothicamagazine
https://www.deviantart.com/gothicamagazine
https://dribbble.com/gothicamagazine
https://gothicamagazine.tumblr.com
https://www.pinterest.com/gothicamagazine
https://myspace.com/gothicamagazine
#SolarFake #SpiritualFront #Tarja #ClanofXymox #RaveTheReqviem #Vacuum #Combichrist #Attrition #DasIch #DiaryofDreams #JayceLewis #The69Eyes #SuicideCommando #TheDanseSociety #TheHouseofUsher #ParadiseLost #SivaSix #CLekktor #OftheWandandtheMoon #Extize #EssenceofMind #Sirenia #Aftereffect #Chamaeleon #Minerve #DollsofPain #MoonFarAway #Larva #Draconian #ParaBellvm #TheNightchild #Hyperhate #nurzeryrhymes #IMissMyDeath #SidusAtrum #OttoDix