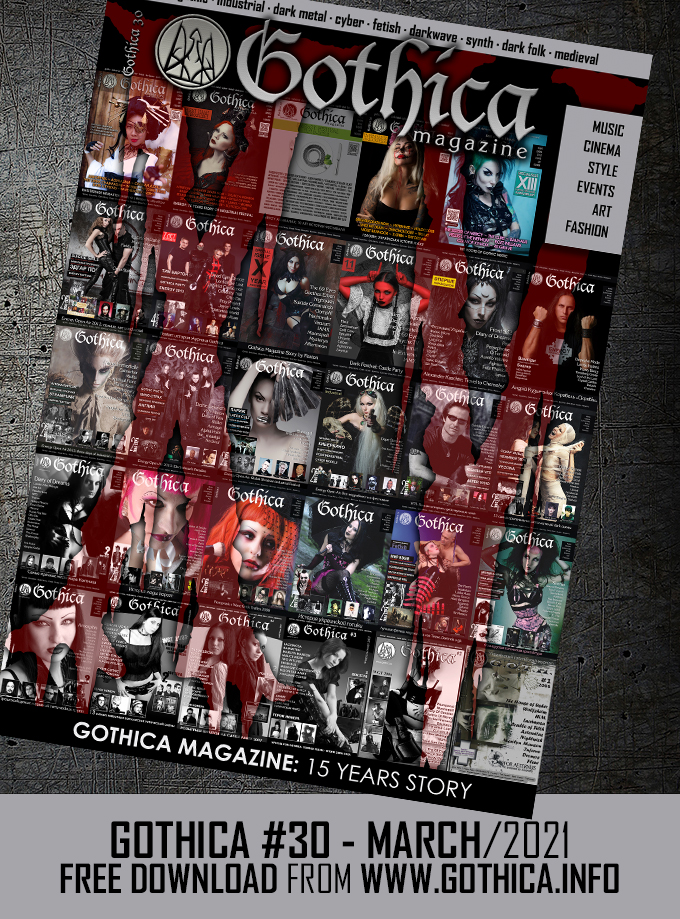 17 березня рівно через 15 років після виходу з друку першого номеру журналу ми раді представити вам 30-й номер Gothica. Це спеціальне видання до 15-річчя. Випуск містить велике інтерв'ю з головним редактором та статтю про історію журналу. Багато друзів журналу по всьому світу, що представляють темну сцену, надіслали свої вітання, розміщені в цьому номері: Solar Fake, Spiritual Front, Tarja, Clan of Xymox, Rave The Reqviem, Vacuum, Combichrist, Attrition, Das Ich, Diary of Dreams, Jayce Lewis, The 69 Eyes, Suicide Commando, The Danse Society, The House of Usher, Paradise Lost, Siva Six, C-Lekktor, Of the Wand & the Moon, Extize, Essence of Mind, Sirenia, Aftereffect, Chamaeleon, Minerve, Dolls of Pain, Moon Far Away, Dark Crystals, Larva, Draconian, Para Bellvm, The Nightchild, Hyperhate, BetaMorphose, nurzery[rhymes], I Miss My Death, Sidus Atrum, Otto Dix і багато інших.
Мова: English
Сторінок: 90
Дизайн: Featon
Обкладинка: All Gothica covers
Безкоштовно почитати і завантажити на сайті журналу Gothica:
👉 https://gothica.info/uk/gothica30
Друковані номери журналу ви можете знайти в нашому магазині:
https://gothica.info/ru/shop/
Будемо вдячні за максимальне поширення інформації на ваших ресурсах!
Хочете бути в курсі подій на dark сцені?
Додавайтеся в наші соцмережі:
https://www.facebook.com/gothicamagazine
https://vk.com/gothicamagazine
https://www.instagram.com/gothicamagazine/
https://t.me/gothicamagazine/
https://twitter.com/gothicamagazine
https://www.behance.net/gothicamagazine
https://www.deviantart.com/gothicamagazine
https://dribbble.com/gothicamagazine
https://gothicamagazine.tumblr.com
https://www.pinterest.com/gothicamagazine
https://myspace.com/gothicamagazine
#SolarFake #SpiritualFront #Tarja #ClanofXymox #RaveTheReqviem #Vacuum #Combichrist #Attrition #DasIch #DiaryofDreams #JayceLewis #The69Eyes #SuicideCommando #TheDanseSociety #TheHouseofUsher #ParadiseLost #SivaSix #CLekktor #OftheWandandtheMoon #Extize #EssenceofMind #Sirenia #Aftereffect #Chamaeleon #Minerve #DollsofPain #MoonFarAway #Larva #Draconian #ParaBellvm #TheNightchild #Hyperhate #nurzeryrhymes #IMissMyDeath #SidusAtrum #OttoDix