Mirabilis is a classic gothic doom track created by a collaboration of Luna one-man project and IMMD band. This song tells the story about the night forest beauty in a mystical style typical for IMMD.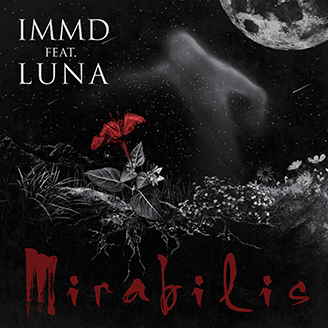 Music: IMMD feat. Luna
Recording, Mixing, Mastering: Luna Studio
Art: Elena Shvets
Collaboration members:
I Miss My Death (IMMD) – Sympho Metal band from Kyiv, Ukraine that illustrates the beauty of the world through a mystical prism. 
The main feature is the combination of classical and metal elements that are most clearly felt in the duet of IMMD vocalists – academic soprano and extreme male vocals. The band doesn't stop at developing the symphonic metal genre and constantly enriches it with other musical influences.
Releases:
Albums: At Her Funeral (2010), In Memories (2014), Mysto (2020)
Singles: Вічні сльози жалю (2011), На Чорних Схилах (2017), Примара(2019), Gospodar (2020), Mirabilis (feat. Luna, 2020)
DVD: In Memories Presentation Show (2015)
Official music video: Вічні сльози жалю (2012), Per Aspera Ad Astra (Haggard cover) (2015), На чорних схилах (2017), Господар (2020)
Links:
https://www.facebook.com/imissmydeath
https://www.youtube.com/user/imissmydeath
https://www.instagram.com/immdband/
https://soundcloud.com/immdband
Luna – one-man Symphonic/Funeral Doom project by Anton deMort from Kyiv. 
The main feature is the absence of vocals as they are replaced with symphonic passages. The main idea for this decision is to highlight the Silence that is naturally more expressive than the Scream. 
Releases:
Albums: Ashes to Ashes (2014), On The Other Side Of Life (2015), Swallow Me Leaden Sky (2017), Luna (2019)
EP: There Is No Tomorrow Gone Beyond Sorrow Under A Sheltering Mask (2015)
Singles: Ceremony (2016), Mirabilis (feat. IMMD, single) – 2021