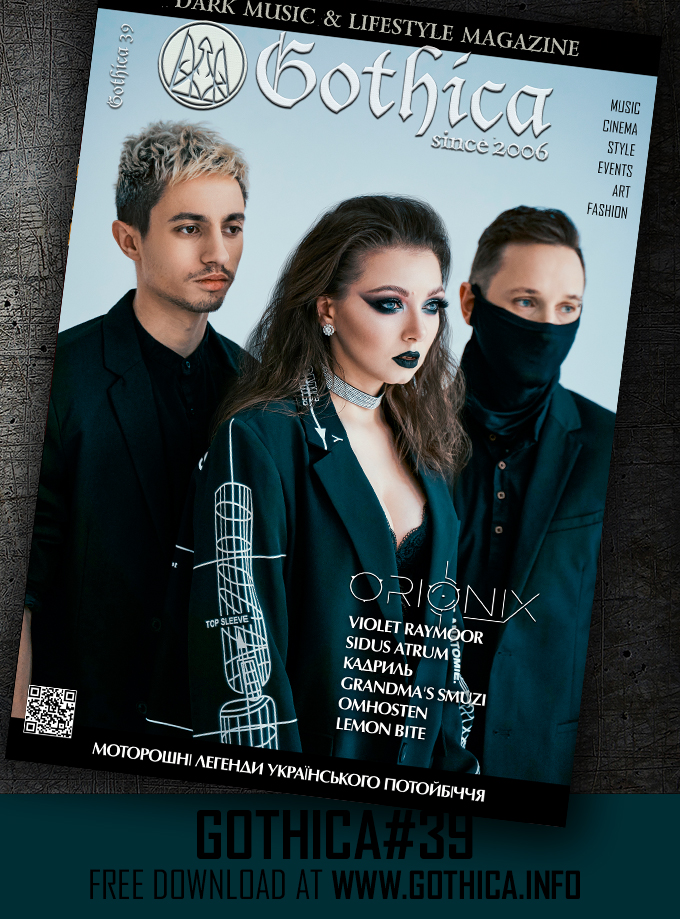 In this difficult time for our country, we decided to continue the business and regularly publish new issues of the magazine.
We present to you the 39th issue of our magazine. The issue contains materials about interesting Ukrainian bands: Violet Raymoor, Sidus Atrum, Grandma's Smuzi, Omhosten, Kadrill, Lemon BITE.
In this issue, together with the Ukrainian Gothic Portal, we continue the regular poetry column "Poetry and Modernity", where we plan to publish the works of talented modern authors.
Language: Ukrainian
Pages: 52
Desing: Featon
Обкладинка:
Photographer: Valeri Marchuk
Models: Orionix band (from left to right Leo, Ren, Neiro)
Free download:

 https://gothica.info/en/magazine/gothica39/
We will be grateful for the maximum dissemination of information on your resources!
https://www.facebook.com/gothicamagazine
https://vk.com/gothicamagazine
https://www.instagram.com/gothicamagazine/
https://t.me/gothicamagazine/
https://twitter.com/gothicamagazine
https://www.behance.net/gothicamagazine
https://www.deviantart.com/gothicamagazine
https://dribbble.com/gothicamagazine
https://gothicamagazine.tumblr.com
https://www.pinterest.com/gothicamagazine
https://myspace.com/gothicamagazine