After two years of relocation, one of the largest metal music festivals in the world is gathering its audience again with two editions in 2022. First, meet from Friday June 17 to Sunday 19, 2022 in Clisson with Deftones, Volbeat, Faith no More, Korn, Megadeth, Judas Priest and even Five Finger Death Punch. Then come back to Clisson from Thursday June 23 to Sunday 26, 2022 with a lineup likely to be incredible. And for good reason, for this Hellfest 2, Metallica will perform the closing concert. As for the rest, the extreme music festival will welcome Nine Inch Nails, Scorpions, and Guns N'Roses, Alice Cooper, Avatar and more.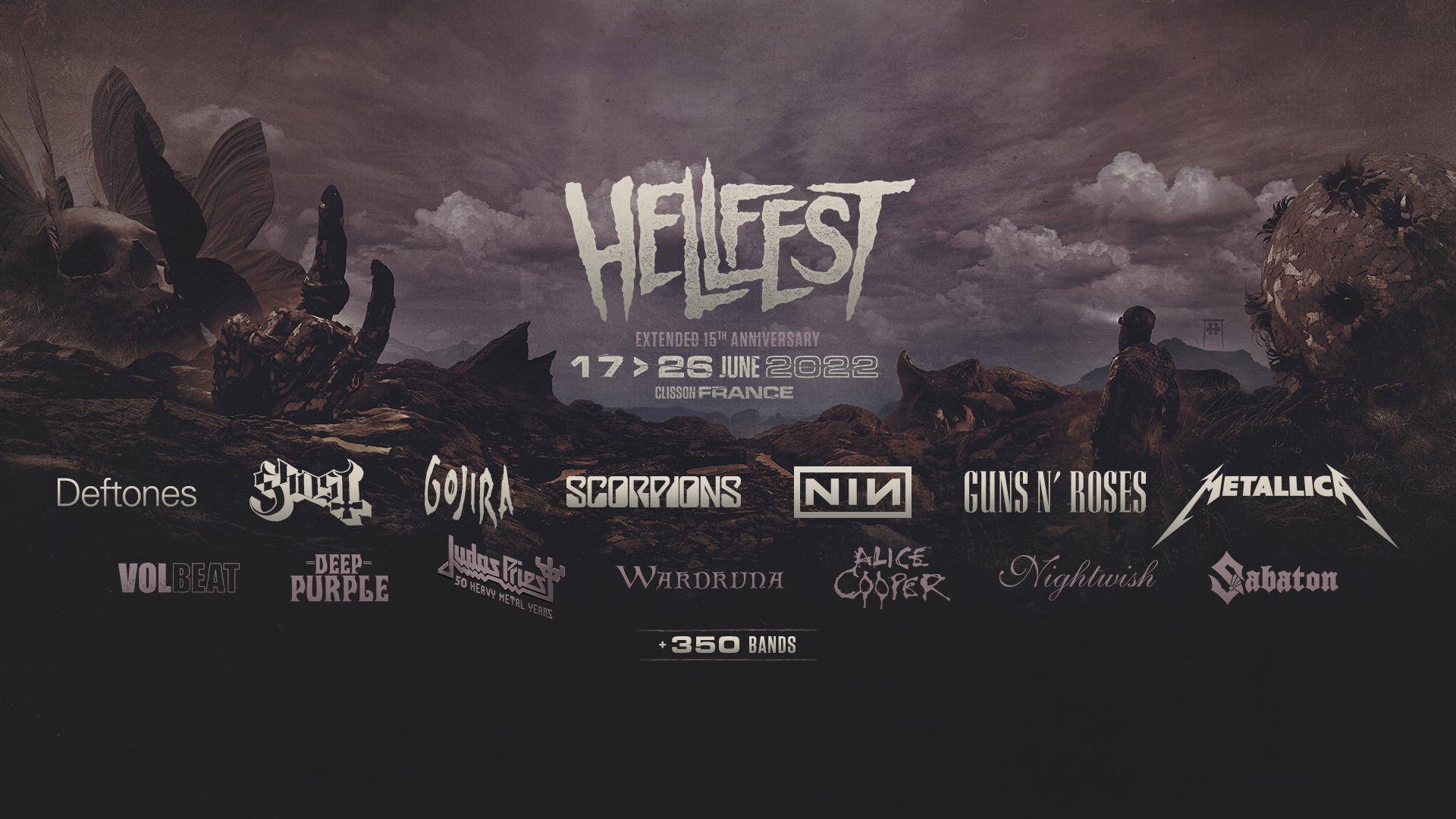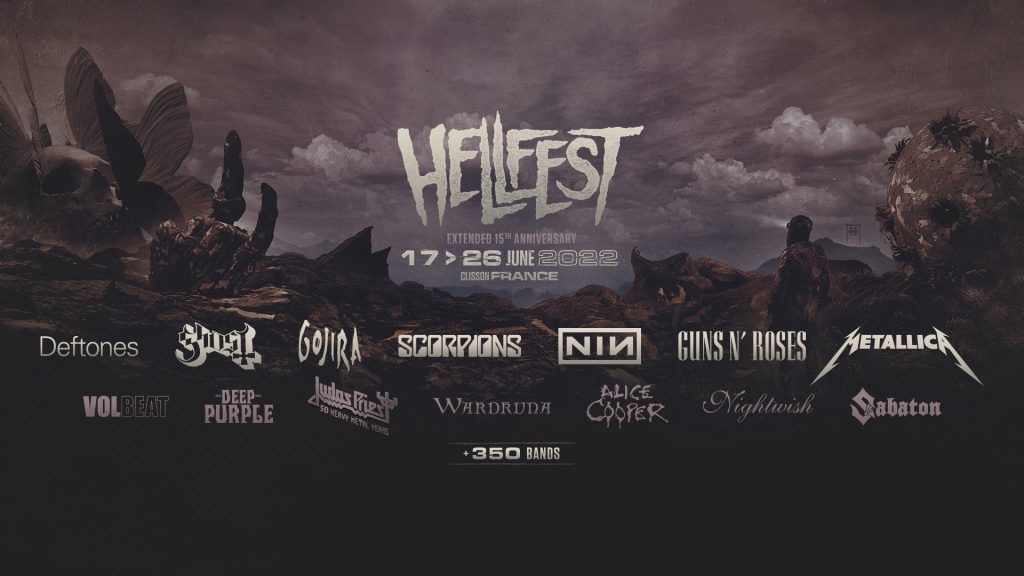 This is the unmissable French music event for all metal fans and other lovers of high-decibel music… Every year since 2006, the Hellfest Summer Open Air aka Hellfest Festival welcomes many bands especially playing metal and punk hardcore music.
Also welcoming several dozens of thousands of festivalgoers and cult bands known worldwide such as Alice Cooper, Kiss, Motörhead and Mötley Crüe, the Hellfest has become one of the main European music festivals and one of the main cultural events in France.
In 2019, the festival welcomed prestigious artists such as Slayer, Gojira, Dropkick Murphys, Mass Hysteria, ZZ TOp, Kiss, Dream Theater, Def Leppard, Lynyrd Skynyrd and even Slash. Unfortunately, Hellfest has had to cancel the editions 2020 and 2021 because of the health crisis. But the festival delayed the 15th edition to 2022, from Friday June17 to Sunday 19 in Clisson.
Moving on to the lineup, many bands will be there including Faith No More, Korn, Deftones, Volbeat, Judas Priest, The Offspring, as well as Deep Purple. As for the rest, Five Finger Death Punch, Avenged Sevenfold, and even Dropkick Murphys and Puscifer will be in. For the record, all tickets have been sold for this edition already.
Hellfest 2 is to be enjoyed from Thursday June 23 to Sunday 26, 2022 with an incredible lineup likely to make people jealous. Metallica will perform the closing concert of Hellfest in 2022. More names? Scorpions, Nine Inch Nails, Guns N'Roses, Alice Cooper, Sabaron, Ministry, Bad Religion, Nightwish, Airbourne, Epica as well as Avatar.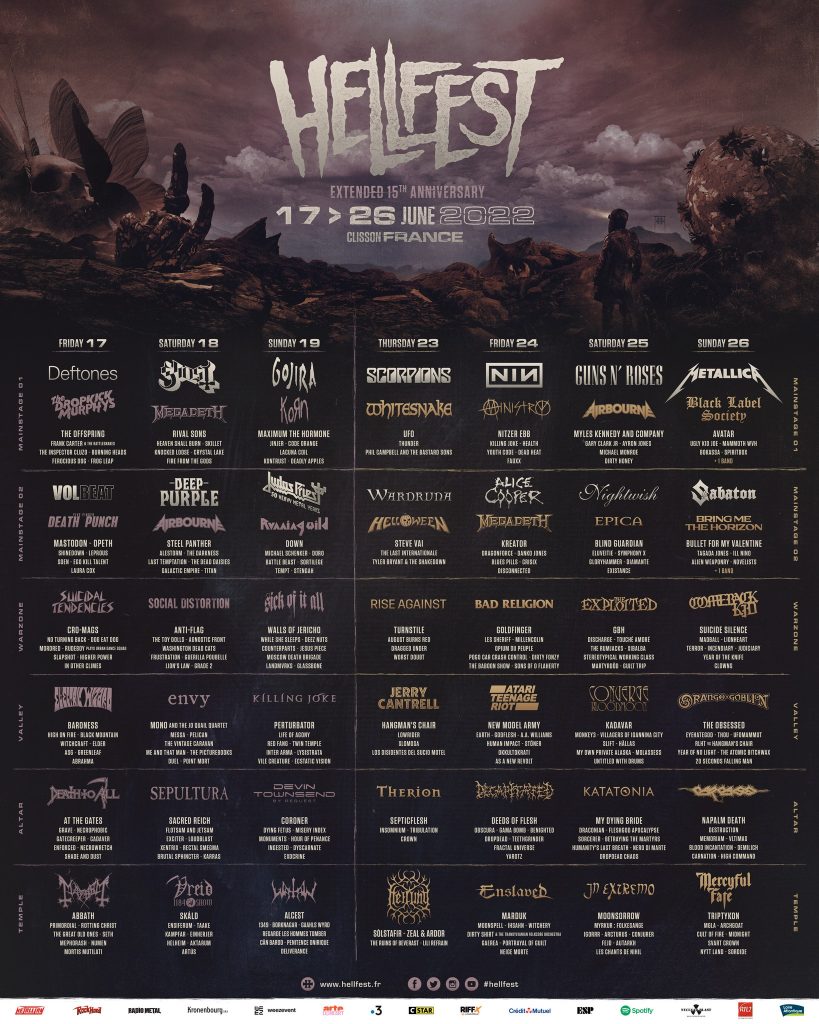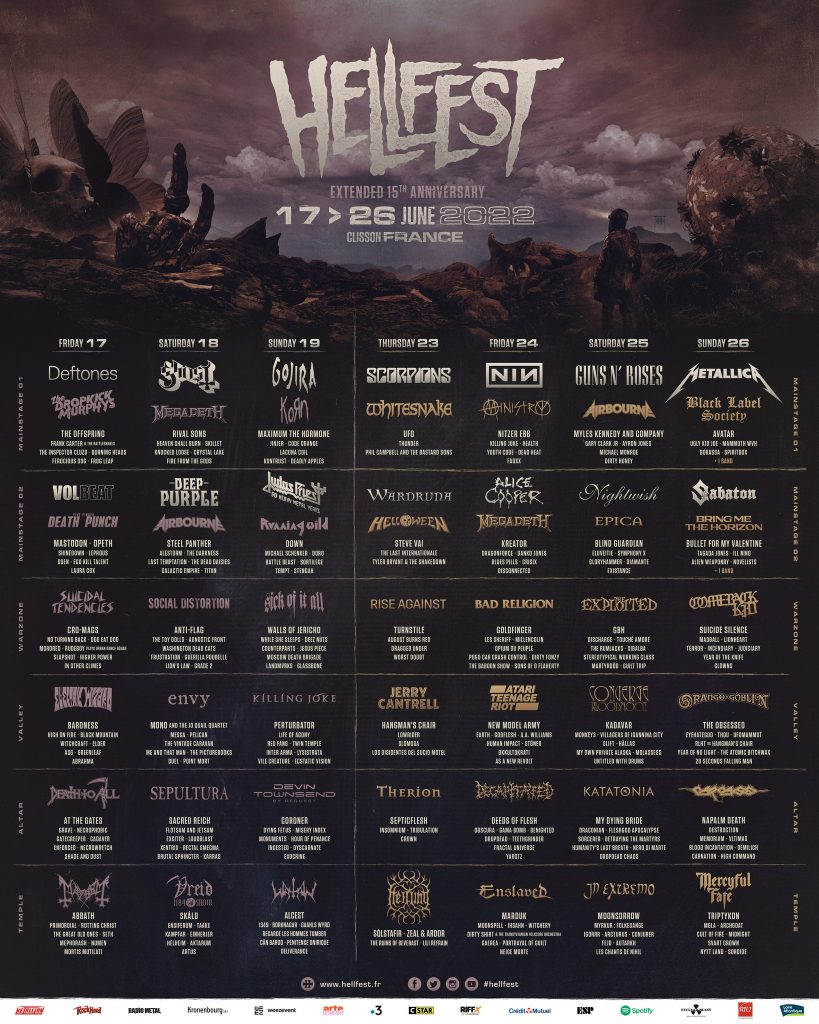 Hellfest 2022 lineup – Part #1
Friday June 17, 2022
MAINSTAGE 1

11:35 p.m. – 12:50 a.m.: Deftones
8:50 p.m. – 10:05p.m.: The Dropkick Murphys
6:40 p.m. – 7:40 p.m.: The Offspring 
4:45 p.m. – 5:30 p.m.: Frank Carter and the Rattlesnakes
3:05 p.m. – 3:50 p.m.: The Inspector Cluzo
1:35 p.m. – 2:14 p.m.: Burning Heads
12:05 p.m. – 12:45 p.m.: Ferocious Dog
11:05 a.m. – 11:35 a.m.: Frog Leap
MAINSTAGE 2

12:55 a.m. – 2:05 a.m.: Volbeat
10:10 p.m. – 11:30 p.m.: Five Finger Death Punch
7:45 p.m. – 8:45 p.m.: Mastodon
5:35 p.m. – 6:35 p.m.: Opeth
3:55 p.m. – 4:40 p.m.: Shinedown
2:20 p.m. – 3 p.m.: Leprous
12:50 p.m. – 1:30 p.m.: Soen
11:40 a.m. – 12:10 p.m.: Ego Kill Talent
10:30 a.m. – 11 a.m.: Laura Cox
WARZONE

1:05 a.m. – 2:05 a.m.: Suicidal Tendencies
10:55 p.m. – 11:55 p.m.: Cro-Mags
8:50 p.m. – 9:45 p.m.: Dog Eat Dog
6:40 p.m.m – 7:40 p.m.: No Turning Back
4:45 p.m. – 5:30 p.m.: Mordred
3:05 p.m. – 3:55 p.m.: Rudeboy
1:35 p.m. – 2:15 p.m.: Splashot
12:15 p.m. – 12:45 p.m.: Higher Power
11:05 a.m. – 11:35 a.m.: In Other Climes

VALLEY

12 a.m. – 1 a.m.: Electric Wizard
9:50 p.m. – 10:50 p.m.: Baroness
7:45 p.m. – 8:45 p.m.: High On Fire
5:35 p.m. – 6:35 p.m.: Black Mountain
3:55 p.m. – 4:35 p.m.: Witchcraft
2:20 p.m. – 3 p.m.: Elder
12:50 p.m. – 1:30 p.m.: ASG
11:40 a.m. – 12:10 p.m.: Greenleaf
10:30 a.m. – 11 a.m.: Abrahma

ALTAR 

12 a.m. – 1 a.m.: Death DTA
9:50 p.m. – 10:50 p.m.: At the Gates
7:45 p.m. – 8:45 p.m.: Grave
5:35 p.m. – 6:35 p.m.: Necrophobic
3:55 p.m. – 4:40 p.m.: Gatecreeper
2:20 p.m. – 3 p.m.: Cadaver
12:50 p.m. – 1:30 p.m.: Enforced
11:40 a.m. – 12:10 p.m.: Necrowretch
10:30 a.m. – 11 a.m.: Shade and dust

TEMPLE

1:05 a.m. – 2:05 a.m.: Mayhem
10:55 p.m. – 11:55 p.m.: Abbath
8:50 p.m. – 9:45 p.m.: Primordial
6:40 p.m. – 7:40 p.m.: Rotting Christ
4:45 p.m. – 5:30 p.m.: The Great Old Ones
3:05 p.m. – 3:50 p.m.: Seth
1:35 p.m. – 2:15 p.m.: Mephorash
12:15 p.m. – 12:45 p.m.: Numen
11:05 a.m. – 11:35 a.m.: Mortis Mutilati
Saturday June 18, 2022
MAINSTAGE 1

11:10 p.m. – 12:45 a.m.: Ghost
8:30 p.m. – 9:45 p.m.: Megadeth
6:30 p.m. – 7:20 p.m.: Rival Sons
4:45 p.m. – 5:30 p.m.: Heaven Shall Burn
3:05 p.m. – 3:50 p.m.: Skillet
1:35 p.m. – 2:15 p.m.: Knocked Loose
12:15 p.m. – 12:45 p.m.: Crystal Lake
11:05 a.m. – 11:35 a.m.: Fire from the Gods
MAINSTAGE 2

1 a.m. – 2 a.m.: Airbourne
9:50 p.m. – 11:05 p.m.: Deep Purple
7:25 p.m. – 8:25 p.m.: Steel Panther
5:35 p.m. – 6:25 p.m.: Alestorm
3:55 p.m. – 4:40 p.m.: The Darkness
2:20 p.m. – 3 p.m.: Last Temptation
12:50 p.m. – 1:30 p.m.: The Dead Daisies
11:40 a.m. – 12:10 p.m.: Galactic Empire
10:30 a.m. – 11 a.m.: Titan

WARZONE

1 a.m. – 2:05 a.m.: Anti-Flag
10:40 p.m. – 11:40 p.m.: Social Distortion
8:30 p.m. – 9:30 p.m.: The Toy Dolls
6:30 p.m. – 7:20 p.m.: Agnostic Front
4:45 p.m. – 5:30 p.m.: Washington Dead Cats
3:05 p.m. – 3:55 p.m.: Frustration
1:35 p.m. – 2:15 p.m.: Guerilla Poubelle
12:15 p.m. 12:45 p.m.: Lion's Law
11:05 a.m. – 11:35 a.m.: Grade 2
VALLEY

11:45 p.m. – 12:45 a.m.: Envy
9:35 p.m. – 10:35 p.m.: Mono and the Jo Quail Quartet
7:25 p.m. – 8:25 p.m.: Messa
5:35 p.m. – 6:25 p.m.: Pelican
3:55 p.m. – 4:40 p.m.: The Vintage Caravan
3:30 p.m. – 3 p.m.: Me and That Man
12:50 p.m. – 1:30 p.m.: The Picturebooks
11:40 a.m. – 12:10 p.m.: Duel
10:30 a.m. – 11 a.m.: Point Mort

ALTAR 

11:45 p.m. – 12:45 a.m.: Sacred Reich
9:35 p.m. – 10:35 p.m.: Sepultura
7:25 p.m. – 8:25 p.m.: Flotsam and Jetsam
5:35 p.m. – 6:25 p.m.: Exciter
3:55 p.m. – 4:40 p.m.: Loudblast
2:20 p.m. – 3 p.m.: Xentrix 
12:50 p.m. – 1:30 p.m.: Rectal Smegma
11:40 a.m. – 12:10 p.m.: Brutal Sphincter
10:30 a.m. – 11 a.m.: Karras

TEMPLE

1 a.m. – 2:05 a.m.: Vreid 1184 Windir Show
10:40 p.m. – 11:40 p.m: Skald
8:30 p.m. – 9:30 p.m.: Ensiferum
6:30 p.m. – 7:20 p.m.: Taake
4:45 p.m. – 5:30 p.m.: Kampfar
3:05 p.m. – 3:50 p.m.: Einherjer
1:35 p.m. – 2:15 p.m.: Helheim
12:15 p.m. – 12:45 p.m.: Aktarium
11:05 a.m. – 11:35 a.m.: Artus
Sunday June 19, 2022
MAINSTAGE 1

11:15 p.m. – 12:45 a.m.: Gojira
8:30 p.m. – 9:45 p.m.: Korn
6:30 p.m. – 7:20 p.m.: Maximum The Hormone
4:45 p.m. – 5:30 p.m.: Jinjer
3:05 p.m. – 3:30 p.m.: Code Orange
1:35 p.m. – 2:15 p.m.: Lacuna Coil
12:15 p.m. – 12:45 p.m.: Kontrust
11:05 a.m. – 11:35 a.m.: Deadly Apples

MAINSTAGE 2

12:50 a.m. – 2 a.m.: Running Wild
9:50 p.m. – 11:10 p.m.: Judas Priest
7:25 p.m. – 8:25 p.m.: Down
5:35 p.m. – 6:25 p.m.: Michael Schenker 
3:55 p.m. – 4:40 p.m.: Doro
2:20 p.m. – 3 p.m.: Battle Beast
12:50 p.m. – 1:30 p.m.: Sortilege
11:40 a.m. – 12:10 p.m.: Tempt
10:30 a.m. – 11 a.m.: Stengah 

WARZONE

12:50 a.m. – 2 a.m.: Sick of It All
10:40 p.m. – 11:40 p.m.: Walls of Jericho
8:30 p.m. – 9:30 p.m.: While She Sleeps
6:30 p.m. – 7:20 p.m.: Deez Nuts 
4:45 p.m. – 5:30 p.m.: Counterparts 
3:05 p.m. – 3:55 p.m.: Jesus Piece
1:35 p.m. – 2:15 p.m.: Moscow Death Brigade
12:15 p.m. – 12:45 p.m.: Landmvrks
11:05 a.m. – 11:35 a.m.: Glassbone

VALLEY

11:45 p.m. – 12:45 a.m.: Killing Joke
9:35 p.m. – 10:35 p.m.: Perturbator 
7:25 p.m. – 8:25 p.m.: Life of Agony
5:35 p.m. – 8:25 p.m.: Red Fang
3:55 p.m. – 4:40 p.m.: Twin Temple
2:20 p.m. – 3 p.m.: Inter Arma
12:50 p.m. – 1:30 p.m.: Lysistrata
11:40 a.m. – 12:10 p.m.: Vile Creature
10:30 a.m. – 11 a.m.: Ecstatic Vision

ALTAR 

11:45 p.m. – 12:45 a.m.: Coroner
9:35 p.m. – 10:35 p.m.: Devin Townsend (by request show)
7:25 p.m. – 8:25 p.m.: Dying Fetus
5:35 p.m. – 6:25 p.m.: Misery Index
3:55 p.m. – 4:40 p.m.: Monuments
2:20 p.m. – 3 p.m.: Hour of Penance
12:50 p.m. – 1:30 p.m.: Ingested
11:40 a.m. – 12:10 p.m.: Dyscarnate
10:30 a.m. – 11 a.m.: Exocrine
 
TEMPLE

12:50 a.m. – 2 a.m.: Watain
10:40 p.m. – 11:40 p.m.: Alcest
8:30 p.m. – 9:30 p.m.: 1349
6:30 p.m. – 7:20 p.m.: Borknagar
4:45 p.m. – 5:30 p.m.: Gaahls Wyrd
3:05 p.m. – 3:55 p.m.: Regarde les hommes tomber
1:35 p.m. – 2:15 p.m.: Cân Bardd
12:15 p.m. – 12:45 p.m.: Pénitence onirique
11:05 a.m. – 11:35 a.m.: Delivrance

Hellfest 2022 lineup – Part#2
Thursday June 23, 2022
MAINSTAGE 1

11:05 p.m. – 12:40 a.m.: Scorpions
8:25 p.m. – 9:40 p.m.: Whitesnake
6:30 p.m. – 7:15 p.m.: UFO
5 p.m. – 5:40 p.m.: Thunder
3:30 p.m. – 4:10 p.m.: Phil Campbell And The Bastard Sons

MAINSTAGE 2

12:45 a.m. – 2 a.m.: Wardruna
9:45 p.m. – 11 p.m.: Helloween
7:30 p.m. – 8:20 p.m.: Steve Vai
5:45 p.m. – 6:25 p.m.: The Last Internationale
4:15 p.m. – 4:55 p.m.: Tyler Bryant & The Shakedown

WARZONE

11:40 p.m. – 12:40 a.m.: Rise Against
9:30 p.m. – 10:30 p.m.: Turnstile
7:20 p.m. – 8:20 p.m.: August Burns Red
5:45 p.m. – 6:25 p.m.: Dragged Under
4:15 p.m. – 4:55 p.m.: Worst Doubt

VALLEY

12:45 a.m. – 2 a.m.: Jerry Cantrell
10:35 p.m. – 11:35 p.m.: Hangman's Chair
8:25 p.m. – 9:25 p.m.: Lowrider
6:30 p.m. – 7:15 p.m.: Slomosa
5 p.m. – 5:40 p.m.: Los Disidentes Del Sucio Motel


ALTAR 

12:45 a.m. – 2 a.m.: Therion
10:35 p.m. – 11:35 p.m.: Septicflesh
8:25 p.m. – 9:25 p.m.: Insomnium
6:30 p.m. – 7:15 p.m.: Tribulation
5 p.m. – 5:40 p.m.: Crown

TEMPLE

11:40 p.m. – 12:40 a.m.: Heilung
9:30 p.m. – 10:30 p.m.: Sólstafir
7:20 p.m. – 8:20 p.m.: Zeal & Ardor
5:45 p.m. – 6:25 p.m.: The Ruins of Beverast
4:15 p.m. – 4:55 p.m.: Lili Refrain
Friday June 24, 2022
MAINSTAGE 1

11:15 p.m. – 12:45 a.m.: Nine Inch Nails
8:35 p.m. – 9:50 p.m.: Ministry
5:55 p.m. – 7:10 p.m.: Killing Joke
4:10 p.m. – 4:55 p.m.: Nitzer Ebb
2:30 p.m. – 3:15 p.m.: Health
1 p.m. – 1:40 p.m.: Youth Code 
11:40 a.m. – 12:10 p.m.: Dead Heat
10:30 a.m. – 11 a.m.: Fauxx 

MAINSTAGE 2

12:50 a.m. – 2:05 a.m.: Alice Cooper
9:55 p.m. – 11:10 p.m.: Megadeth
7:15 p.m. – 8:30 p.m.: Kreator
5 p.m. – 5:50 p.m.: Dragonforce
3:20 p.m. – 4:05 p.m.: Danko Jones
1:45 p.m. – 2:25 p.m.: Blues Pills
12:15 p.m. – 12:55 p.m.: Crisix
11:05 a.m. – 11:35 a.m.: Disconnected 

WARZONE

12 a.m. – 1 a.m.: Bad Religion
9:50 p.m. – 10:50 p.m.: Goldfinger
7:45 p.m. – 8:40 p.m.: Les Sheriff
5:55 p.m. – 6:45 p.m.: Millencolin
4:10 p.m. – 4:55 p.m.: Opium du Peuple
2:30 p.m. – 3:15 p.m.: Pogo Car Crash Control
1 p.m. – 1:40 p.m.: Dirty Fonzy
11:40 a.m. – 12:10 p.m.: The Baboon Show
10:30 a.m. – 11 a.m.: Sons Of O'Flaherty

VALLEY

1:05 a.m. – 2:05 a.m.: Atari Teenage Riot
10:55 p.m. – 11:55 p.m.: New Model Army
8:45 p.m. – 9:45 p.m.: Earth 
6:50 p.m. – 7:40 p.m.: Godflesh
5 p.m. – 5:50 p.m.: AA. Williams
3:20 p.m. – 4:05 p.m.: Human Impact
1:45 p.m. – 2:25 p.m.: Stöner
12:15 p.m. – 12:55 p.m.: Okkultokrati
11:05 a.m. – 11:35 a.m.: As A New Revolt

ALTAR 

1:05 a.m. – 2:05 a.m.: Decapitated
10:55 p.m. – 11:55 p.m.: Deeds Of Flesh
8:45 p.m. – 9:45 p.m.Obscura
6:50 p.m. – 7:40 p.m.: Gama Bomb
5 p.m. – 5:50 p.m.: Benighted
3:20 p.m. – 4:05 p.m.: Dropdead
1:45 p.m. – 2:25 p.m.: Teethgrinder
12:15 p.m. – 12:55 p.m.: Fractal Universe
11:05 p.m. -11:35 a.m.: Yarotz 

TEMPLE

12 a.m. – 1 a.m.: Enslaved
9:50 p.m. – 10:50 p.m.: Marduk
7:45 p.m. – 8:40 p.m.: Moonspell
5:55 p.m. – 6:45 p.m.: Ihsahn
4:10 p.m. – 4:55 p.m.: Witchery
2:30 p.m. – 3:15 p.m.: Dirty Shirt & The Transylvanian Folkcore Orchestra
1 p.m. – 1:40 p.m.: Gaerea
11:40 a.m. – 12:10 p.m.:Portrayal of Guilt 
10:30 a.m. – 11 a.m.: Neige Morte
Saturday June 25, 2022
MAINSTAGE 1

9:55 p.m. – 12:25 a.m.: Guns N' Roses
7 p.m.: 8:15 p.m.: Airbourne
5 p.m.: 5:50 p.m.: Myles Kennedy and Company
3:20 p.m. – 4:05 p.m.: Gary Clark Jr
1:45 p.m. – 2:25 p.m.: Ayron Jones
12:15 p.m. – 12:55 p.m.: Michael Monroe
11:05 a.m. – 11:35 a.m.: Dirty Honey

MAINSTAGE 2

12:30 a.m. – 2 a.m.: Blind Guardian
8:20 p.m. – 9:50 p.m.: Nightwish
5:55 p.m. – 6:55 p.m.: Epica
4:10 p.m. – 4:55 p.m.: Eluveitie
2:30 p.m. – 3:15 p.m.: Symphony X
1 p.m. – 1:40 p.m.: Gloryhammer
11:40 a.m. – 12:10 p.m.: Diamante
10:30 a.m. – 11 a.m.: Existance

WARZONE

1 a.m. – 2 a.m.: The Exploited
10:50 p.m. – 11:50 p.m.: GBH
8:40 p.m. – 9:40 p.m.: Discharge
6:50 p.m. – 7:40 p.m.: Touché Amoré
5 p.m. – 5:50 p.m.: The Rumjacks
3:20 p.m. – 4:05 p.m.: Xibalba
1:45 p.m. – 2:25 p.m.: Stereotypical Working Class
12:15 p.m. – 12:55 p.m.: Martyrdöd
11:05 a.m. – 11:35 a.m.: Guilt Trip

VALLEY

11:55 p.m. – 12:55 a.m.: Converge: Bloodmoon
9:45 p.m. – 10:45 p.m.: Kadavar
7:45 p.m. – 8:35 p.m.: Monkey3
5:55 p.m. – 6:45 p.m.: Villagers Of Ioannina City
4:10 p.m. – 4:55 p.m.: Slift
2:30 p.m. – 3:15 p.m.: Hällas
1 p.m. – 1:40 p.m.: My Own Private Alask
11:40 a.m. – 12:10 p.m.: Molassess
10:30 a.m. – 11 a.m.: Untitled With Drums 

ALTAR 

11:55 p.m. – 12:55 a.m.: Katatonia
9:45 p.m. – 10:45 p.m.: My Dying Bride
7:45 p.m. – 8:35 p.m.: Draconian
5:55 p.m. – 6:45 p.m.: Fleshgod Apocalypse
4:10 p.m. – 4:55 p.m.: Sorcerer
2:30 p.m. – 3:15 p.m.: Betraying The Martyrs
1 p.m. – 1:40 p.m.: Humanity's Last Breath
11:40 a.m. – 12:10 p.m.: Nero di Marte
10:30 a.m. – 11 a.m.: Dropdead Chaos

TEMPLE
1 a.m. – 2 a.m.: In Extremo
10:50 p.m. – 11:50 p.m.: Moonsorrow
8:40 p.m. – 9:40 p.m.: Myrkur : Folkesange
6:50 p.m. – 7:40 p.m.: Igorrr
5 p.m. – 5:50 p.m.: Arcturus
3:20 p.m. – 4:05 p.m.: Conjurer
1:45 p.m. – 2:25 p.m.: Fejd
12:15 p.m. – 12:55 p.m.: Autarkh
11:05 a.m. – 11:35 a.m.: Les Chants de Nihil
Sunday June 26, 2022
MAINSTAGE 1

11:05 p.m. – 1 a.m.: Metallica
8:40 p.m. – 9:40 p.m.: Black Label Society
6:30 p.m. – 7:30 p.m.: Avatar
2:55 p.m. – 3:35 p.m.: Ugly Kid Joe
1:25 p.m. – 2:05 p.m.: Mammoth WVH
12:15 p.m. – 12:45 p.m.: Bokassa
11:05 a.m. – 11:35 a.m.: Spiritbox 

MAINSTAGE 2

9:45 p.m. – 11 p.m.: Sabaton
7:35 p.m. – 8:35 p.m.: Bring Me The Horizon
5:25 p.m. – 6:25 p.m.: Bullet For My Valentine
3:40 p.m. – 4:25 p.m.: Tagada Jones
2:10 p.m. – 2:50 p.m.: Ill Niño
11:40 a.m. – 12:10 p.m.: Novelists 

WARZONE

12:05 a.m. – 1 a.m.: Suicide Silence
10 p.m. – 11 p.m.: Comeback Kid
8:10 p.m. – 9 p.m.: Madball
6:20 p.m. – 7:10 p.m.: Lionheart
4:30 p.m. – 5:20 p.m.: Terror
2:55 p.m. – 3:35 p.m.: Incendiary
11:05 a.m. – 11:35 a.m.: Clowns
1:25 p.m. – 2:05 p.m.: Judiciary
12:15 p.m. – 12:45 p.m.: Year of the Knife

VALLEY

11:05 p.m. – 12 a.m.: Orange Goblin
9:05 p.m. – 9:55 p.m.: The Obsessed
7:15 p.m. – 8:05 p.m.: Eyehategod
5:25 p.m. – 6:15 p.m.: Thou
3:40 p.m. – 4:25 p.m.: Ufommamut
2:10 p.m. – 2:50 p.m.: Regarde Les Hommes Tomber vs. Hangman's Chair
12:50 p.m. – 1:20 p.m.: Year Of No Light
11:40 a.m. – 12:10 p.m.: The Atomic Bitchwax
10:30 a.m. – 11 a.m.: 20 Seconds Falling Man


ALTAR 
11:05 p.m. – 12 a.m.: Carcass
9:05 p.m. – 9:55 p.m.: Napalm Death
7:15 p.m. – 8:05 p.m.: Destruction
5:25 p.m. – 6:15 p.m.: Memoriam
3:40 p.m. – 4:25 p.m.: Vltimas
2:10 p.m. – 2:50 p.m.: Blood Incantation
12:50 p.m. – 1:20 p.m.: Demilich
11:40 a.m. – 12:10 p.m.: Carnation
10:30 a.m. – 11 a.m.: High Command

TEMPLE

12:05 a.m. – 1 a.m.: Triptykon
10 p.m. – 11 p.m.: Mercyful Fate
8:10 p.m. – 9 p.m.: MGLA
6:20 p.m. – 7:10 p.m.: Archgoat
4:30 p.m. – 5:20 p.m.: Cult Of Fire
2:55 p.m. – 3:35 p.m.: Midnight
1:25 p.m. – 2:05 p.m.: Svart Crown
12:15 p.m. – 12:45 p.m.: Nytt Land
11:05 a.m. – 11:35 a.m.: Sordide
PRACTICAL INFORMATION
DATES AND OPENING TIME
From 17 June 2022 to 26 June 2022
LOCATION
Site du Hellfest
Rue du Champ Louet
44190 Clisson
OFFICIAL WEBSITE
www.hellfest.fr