The editors and our music experts summed up the results of 2020 and chose the best longplay release of this "plague" year.
So, according to the editors of Gothica magazine, it became the best album of 2020
Ulver – Flowers of Evil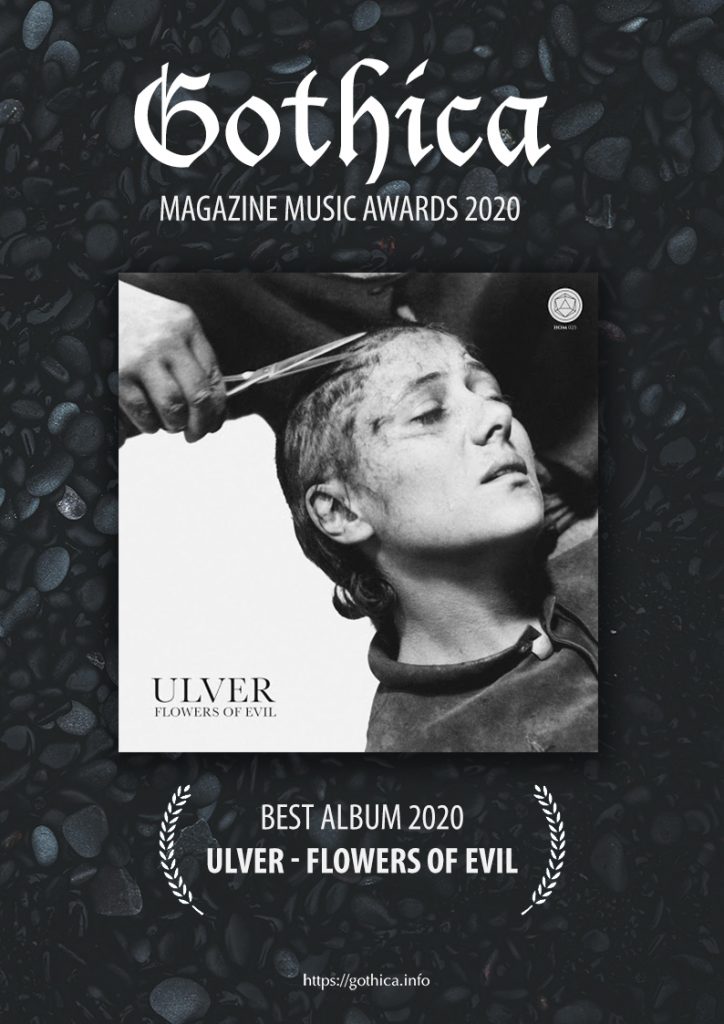 Also, in the TOP-7, we want to highlight this albums:
2. Einstürzende Neubauten – Alles In Allem
3. King Dude – Full Virgo Moon
4. Sopor Aeternus & The Ensemble Of Shadows – Island Of The Dead
5. Marilyn Manson – We Are Chaos
6. Paradise Lost – Obsidian
7. This Eternal Decay – Silence
All long list Gothica Music Awards 2020 – "Best Album"
Einstürzende Neubauten – Alles In Allem
Draconian – Under a Godless Veil
Nine Inch Nails – Ghosts VI: Locusts
Paradise Lost – Obsidian
Soft Kill – Dead Kids R.I.P. City
On Thorns I Lay – Threnos
The Birthday Massacre – Diamonds
Angellore – Rien ne Devait Mourir
Katatonia – City Burials
Delain – Apocalypse & Chill
Dool – Summerland
Jaye Jayle – Prisyn
Seven Spires – Emerald Seas
Fearing – Shadow
Deathwhite – Grave Image
Me And That Man – New Man, New Songs, Same Shit Vol. 1
Marilyn Manson – We Are Chaos
A.A. Williams – Forever Blue
My Dying Bride – The Ghost of Orion
Orville Peck – Show Pony
Nightwish – HUMAN. :II: NATURE
Diorama – Tiny Missing Fragments
Smoke Fairies – Darkness Brings The Wonders Home
Black Nail Cabaret – Gods Verging on Sanity
William Basinski – Lamentations
Nick Cave – Idiot Prayer
Saltatio Mortis – Fur immer fre
Welle:Erdball – Engelstrompeten & Teufelsposaunen
Mono Inc. – The Sound of the Raven
Die Arzte – Hell
Astari Nite – Here Lies
Lustmord – TRINITY
Soman – Global
Rave The Reqviem – Stigmata Itch
I Miss My Death – Mysto
Cabaret Voltaire – Shadow of Fear
Ah Cama-Sotz – New Skin for Old Tribals
KMFDM – In Dub
Hatari – Neyslutrans
Blue Stahli – Copper
Desiderii Marginis – Departed
Heimataerde – Eigengrab
Danheim – Skapanir
Clan Of Xymox – Spider On The Wall
Underground Fire – Ashes of Life
The Danse Society – Sailing Mirrors
Deep Tissue – Patience or Fear
King Dude – Full Virgo Moon
The Moon and the Nightspirit – Aether
Leaves Eyes – The Last Viking
Rosetta Stone – Cryptology
Angelspit – The Ignorance Cartel
Dive – Where Do We Go from Here?
In Extremo – Kompass zur Sonne
Assemblage 23 – Mourn
Rotersand – How Do You Feel Today
Absurd Minds – Sapta
Ulver – Flowers of Evil
Mono Inc. – The Book Of Fire
Placebo Effect – Shattered Souls
Snakeskin – Medusa's Spell
Lustmord – Trinity
Amduscia – Existe
U96 & Wolfgang Flur – Transhuman
Eisfabrik – Kryothermalmusik Aus Der Eisfabrik
Rome – The Lone Furrow
Sopor Aeternus & The Ensemble Of Shadows – Island Of The Dead
Welle: Erdball – Engelstrompeten & Teufelsposaunen
Eisbrecher – Schicksalsmelodien
The Kentucky Vampires – Crimson Curse
Autumn Tears – The Air Below the Water
Lights Of Euphoria – Altered Voices
Молчат Дома – Монумент
Dool – Summerland
The House of Usher – Holyghost