Gothica#28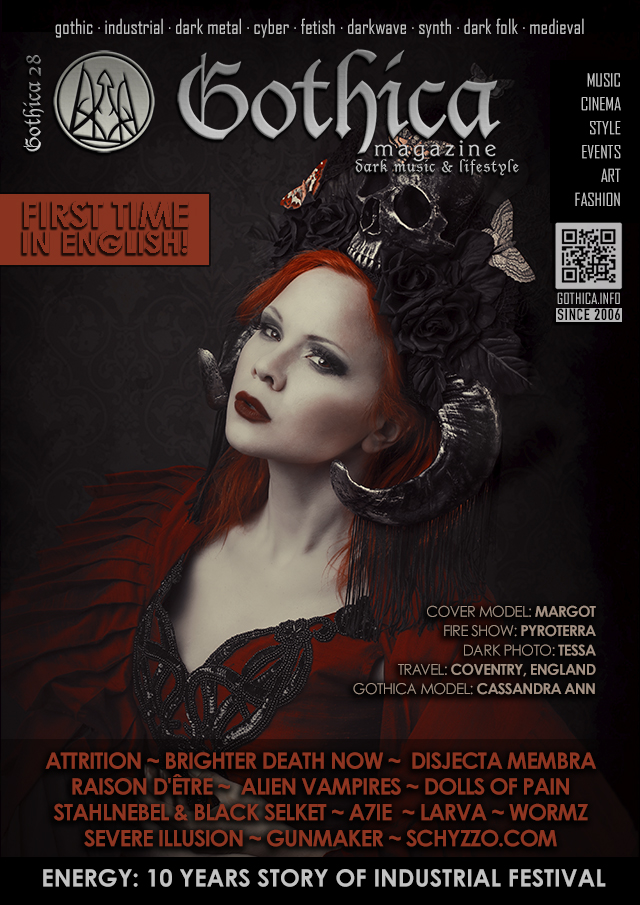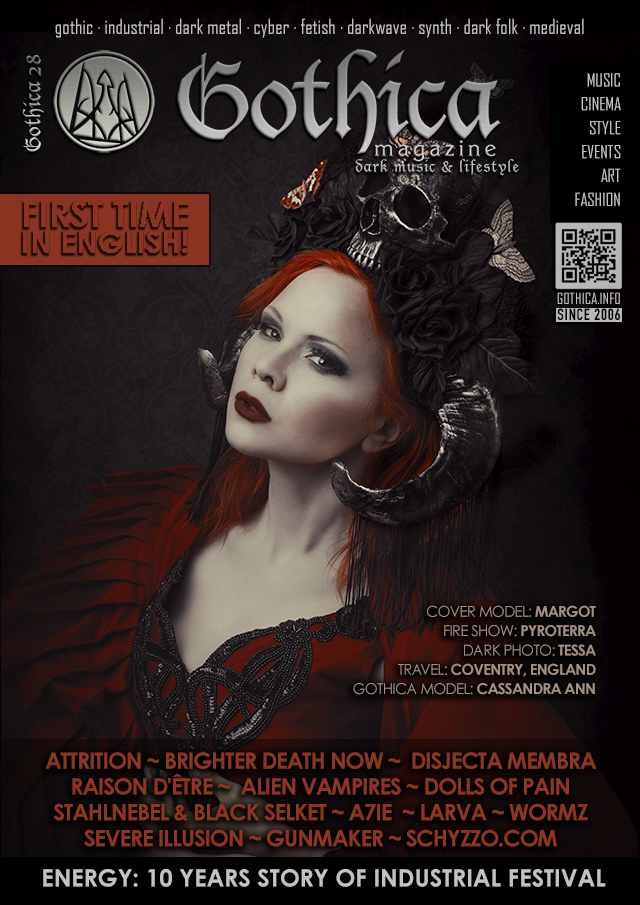 Language: English
Pages: 218
Design: Featon
Cover photo: Laura Sheridan
Cover model: Margot
Dress: Alice Corsets
Headpiece: Hysteria Machine
We are happy to present you the 28th issue of the Gothica magazine. It took us almost 15 years since the first issue of the journal in 2006 to reach this milestone. This is the first time Gothica is published in English. In the future, we plan to publish the magazine in English on a regular basis.
The highlights of the 28th issue include:
– the monumental material dedicated to the 40th anniversary of the British project – Attrition;
– huge interview with the "granddaddies" of the New Zealand gothic scene – Disjecta Membra;
– an interview with Roger Karmanik (Brighter Death Now / Cold Meat Industry) about his performance in Kiyv and his trip to Chornobyl;
– the 10 years story of the industrial festivals Energy Open Air and Winter Energy under one cover;
– continuation of our regular section "Fire Walk with Me" on the best fire theaters in the world. This time our guests were Pyroterra – an art group from the Czech Republic;
– you can discover more about photography in an interview with Tessa's Welten Fotografie.
German model Margot is featured on the cover of the journal issue. You can also enjoy photos of the US based model Cassandra Ann in our permanent column "Gothica Model".
Content:
Music
Attrition
Brighter Death Now
Disjecta Membra
Alien Vampires
A7IE
Severe Illusion
Raison d'être
Wormz
Dolls Of Pain
Larva
Gunmaker
Stahlnebel & Black Selket
Schyzzo.com
dj Terrorissmo
Events
Energy Festival Story 2010-2020
Gothica Party 14
Art
Dark photo: Tessa's Welten Fotografie
Pyroterra
Style
Cover Model: Margot
Gothica Model: Cassandra Ann
Travel
Coventry, England